It's Friday linkup time! I'm linking up with the Book Blogger Hop hosted by
Coffee Addicted Writer
, Book Beginnings of Fridays hosted by
Rose City Reader
, and the Friday 56 hosted by
Freda's Voice
.
This Week's Book Blogger Hop Question:
Is there a reason you chose Blogger over WordPress or a different platform?
My Answer:
There wasn't a real reason for choosing Blogger over WordPress. I have a Gmail account and so all I had to do was press a few buttons to set up a blog.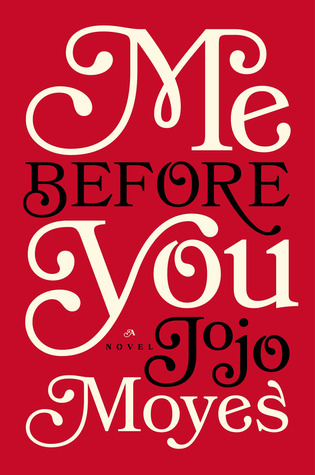 This week's book was one I've known about for several years but I've avoided because I heard it was an ugly cry read. I'm not a fan of ugly crying so I really didn't have any interest in reading it UNTIL I saw the movie trailer and became obsessed with it. So now I'm reading
Me Before You by Jojo Moyes
and loving it. This is the first book I've read by her and unless it goes spectacularly wrong in the last quarter it won't be the last!

Prologue
When he emerges from the bathroom she is awake, propped up against the pillows and flicking through the travel brochures that were beside his bed.
Chapter 1
There are 158 footsteps between the bus stop and home, but it can stretch to 180 if you aren't in a hurry, like maybe if you're wearing platform shoes.

My Thoughts:
In the Prologue we get Will before the accident and get to see him in all his arrogant glory. It doesn't tell us much about who he'll be when we see him again but we definitely get a picture of who he is. I love the first line in Chapter 1. It's definitely Lou's voice and I felt like I got to know her pretty quick off that one line.
The 56
"You don't have to behave like an arse."
The words rang out in the still air.

My Thoughts:
I'm past this scene but it was one of my favorites! Lou's been trying to be nice and pleasant for so long and at this point she's just had it.

So what do you think? Keep reading?