It's Friday linkup time! I'm linking up with the Book Blogger Hop hosted by
Coffee Addicted Writer
, Book Beginnings of Fridays hosted by
Rose City Reader
, and the Friday 56 hosted by
Freda's Voice
.
This Week's Book Blogger Hop Question:
Do you keep a Blog Roll List?
My Answer:
I don't. I've thought about putting one together but just never have and I'm worried I'd accidentally leave someone off!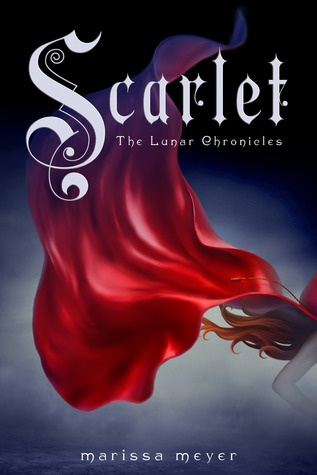 This week's book is the 2nd in the Lunar Chronicles -
Scarlet by Marissa Meyer
. I listened to
Cinder
a few weeks ago and was surprised by how much I loved it. I know the reviews for it were fantastic and all of my favorite bloggers had really enjoyed it but it was so different than what I usually read/listen to that I was a bit worried. Now I've started on
Scarlet
and if anything I'm enjoying it more! I love having a little more of an idea of what's going on and I really like the new characters in this one.
The Beginning:
Scarlet was descending toward the alley behind the Rieux Tavern when her portscreen chimed from the passenger seat, followed by an automated voice: "Comm received for Mademoiselle Benoit from Toulouse Law Enforcement Department of Missing Persons."

My Thoughts:
Right away I'm intrigued! I love a missing persons case and I can't wait to see what's going on!
The 56:
She called up the blueprint of the jail's interior structure to check the direction while she waited for Thorne to clamber up behind her.

My Thoughts:
Nail biting! I know what's going to happen and just reading this again has me holding my breath wondering how it's going to work out!

So what do you think? Keep reading?