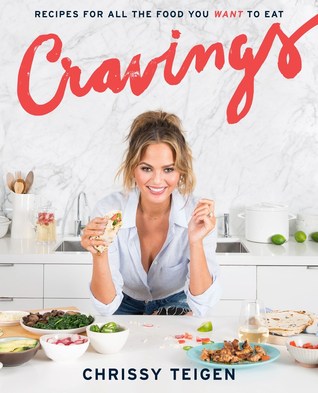 I didn't quite know what to expect when I opened this cookbook. I'd seen Chrissy Teigen as a judge on several cooking shows and knew that she was really into food but sometimes a celebrity cookbook ends up being more about the celebrity than the food. This is not the case with
Cravings
. Sure, there's a lot of photos of Teigen including a couple with her husband, singer John Legend. But there's just as many photos of the food. And this food is serious food. There's no protein shakes or light meals. This is food. Calorie laden, filling, and delicous. This is not the cookbook you want when you're dieting or trying to eat light. It IS the cookbook you want when you want something yummy and maybe a touch different.
The book is divided up into the usual chapters - breakfast, soup, salads, noodles and the like though the titles are slightly different. There's also a chapter on Thai food in honor of Teigen's mother. Each recipe has a paragraph or two about how it came to be and why it's included in the book. All the ingredients should be able to be found at a regular grocery store though some of the produce or proteins (lacinto kale, Manila clams) may take a little bit of searching. These, however, make up a tiny percentage of the recipes.
So what about the food? There's Pull-Apart Buttermilk Biscuits with Sausage Gravy, Chrissy's Mac and Cheese with Cheesy Garlic Bread Crumbs, Armadillo Cheesy Garlic Bread (which if it is half as cheesy and amazing as it looks in the photo I'm going to be a happy girl!), Sweet Potato Gnocchi with Brown Butter and Sage, "Everything" Chicken Sandwich Melts, John's Tuscan Brick Chicken with Charred Lemons, and a Spicy Italian Sausage Meatloaf just to name a few.
I thought I'd share one of the recipes I've tried -
Pepper's Scalloped Potatoes
5 lbs russet potatoes
1 medium onion, finely chopped
1 1/3 lbs ham, cut into 1/2 inch cubes
8 slices bacon (not thick-cut), cut into squares
1 stick unsalted butter
2 tablespoons garlic salt
1/2 teaspoons freshly ground black pepper
1 1/2 cups all purpose flour
5 1/2 cups whole milk
Preheat the oven to 375
Peel the potatoes, half them lengthwise, and slice them crosswise into thin half-moons. Rinse well with cold water and drain in a colander. Transfer the potatoes to a large bowl and toss them with the onion and the ham.
In a large Dutch oven, cook half the bacon over medium-low heat until the fat is rendered and the bacon is crispy, 9 to 10 minutes. Add the butter and cook, stirring until melted, making sure the butter doesn't burn. Add the garlic salt and pepper, then whisk in the flour and cook, stirring to work out the lumps, until smooth. Whisk in the milk until smooth. Increase the heat to high and bring to a boil. Cook, whisking, until thickened, about 5 minutes. Transfer the sauce to a bowl.
Arrange half the potato mixture in the bottom of the Dutch oven, then cover it with half the sauce. Repeat with the remaining potatoes and sauce. Arrange the uncooked bacon squares on top of the sauce and bake, uncovered, until the bacon appears crispy and rendered, 30 to 35 minutes. Reduce the oven temperature to 350, cover with the lid, and cook until bubbling, 1 hour 30 minutes longer.
Changes:
I did make a change in the cooking method just out of necessity. I don't have a large Dutch oven like the one she mentions so I cooked everything in a large Stock Pot and then layered everything as she directed into a greased 9 x 13. I covered it will foil instead of a lid when the time came. It was a very full 9 x 13 but it worked perfectly.
Results:
So so so good. It's creamy and meaty with crispy bits and was a nice take on the typical scalloped potatoes. The recipe was easy to follow and it worked just as she said it would. I served it with her Literally Stovetop Pork Chops and the crispy pork chops with just a hint of a kick went wonderfully with the potatoes. Both recipes were a hit and will definitely be being made again!
This cookbook is a lot of fun. It's fun to read and to flip through and all 3 recipes I tried (Pepper's Scalloped Potatoes, Literarly Stovetop Pork Chops,and Pull Apart Buttermilk Biscuits) were all really good and the recipes easy to follow. This one probably isn't for vegetarians but if you'd like to add a few new recipes that are family friendly with just a little twist to your repertoire be sure and pick up this book!
I'm linking up with Weekend Cooking hosted by
Beth Fish Reads
*This book was acquired from Blogging for Books in exchange for an honest review.