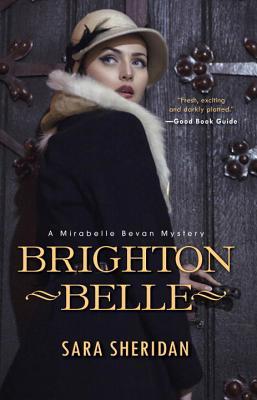 Brighton Belle (Mirabelle Bevan #1) by Sara Sheridan
Rating: Good
Source: NetGalley
Description:
In post World War II England, former Secret Service operative Mirabelle Bevan becomes embroiled in a new kind of intrigue...
1951: In the popular seaside town of Brighton, it's time for Mirabelle Bevan to move beyond her tumultuous wartime years and start anew. Accepting a job at a debt collection agency seems a step toward a more tranquil life. But as she follows up on a routine loan to Romana Laszlo, a pregnant Hungarian refugee who's recently come off the train from London, Mirabelle's instincts for spotting deception are stirred when the woman is reported dead, along with her unborn child. After encountering a social climbing doctor with a sudden influx of wealth and Romana's sister, who seems far from bereaved and doesn't sound Hungarian, Mirabelle decides to dig deeper into the suspicious circumstances surrounding the death. Aided by her feisty sidekick - a fellow office worker named Vesta Churchill ("no relation to Winston" she explains) - Mirabelle unravels a web of evil that stretches from the Brighton beachfront to the darkest corners of Europe. Putting her own life at risk, she must navigate a lethal labyrinth of lies and danger to expose the truth
. (From Goodreads)

Genre: Mystery
Why I Picked This Book:
The cover is gorgeous and I love this books set around World War II - especially in England.
My Impression:
What an entertaining start to a series! This is the first book in the Mirabelle Bevan series and it kept me turning pages.
Mirabelle reminds me a little of John Watson in the BBC Sherlock or the women in The Bletchley Circle. The wartime service had her seeing things she never would have seen and doing things she never imagined doing and now in peacetime she's bored and restless and craving the excitement and the danger that she used to have. Not only is she bored but she's also grieving the death of her longtime boyfriend who died in just a few years before. She's also incredibly capable in her new work at debt collecting and doesn't think twice about taking a fairly simple job when her boss is out sick. It's also easy to understand why she keeps pulling at the threads that don't quite fit and becomes involved in a full scale investigation. Vesta is a fun character. She feels kind of like Mirabelle's little sister who refuses to be left out of the fun. She's looking for an adventure and is quick witted though not nearly as experienced or jaded as Mirabelle. The debt collection business also provides a good cover for the two to go around asking questions though Mirabelle is definitely stretching things a bit!
The book moves along at a pretty fast paced. Not only is the mystery starting to show itself but we're getting to know Mirabelle a bit better and getting hints of her wartime service and who Jack was. This isn't a simple whodunnit. It's more of a who is who and why and what were they doing there. With all the ins and outs sometimes details get a little lost and I found myself having to remind myself who a character was and how they were connected a time or two. However, I was pleased with the resolution and felt like all the loose ends were tied up nicely.
I love the setup for the series in this book. Mirabelle is a great character who is serious without being angsty and I though Vesta proved a nice addition as her assistant. If you like strong female leads and twisty mysteries I think this a book you'll enjoy. I'm definitely looking forward to the next entry into the Mirabelle Bevan series!
Would I Read More of this Series/Author?:
Yes! The titles were published in the UK a few years ago so I'm looking forward to getting the next one soon!
Would I Recommend this Book?:
I would! If you like murder mysteries that are a little on the cozy side with a bit of an edge then give this one a try.