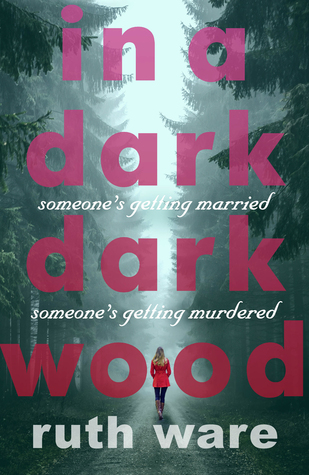 In a Dark Dark Wood by Ruth Ware
Rating: Very Good
Source: Library (Audio)
Description:
Nora hasn't seen Clare for ten years. Not since Nora walked out of school one day and never went back.
In a dark, dark wood there was a dark, dark house.
Until out of the blue, an invitation to Clare's bachelorette party arrives. Is this a chance for Nora to finally put her past behind her?
And in the dark dark house there was a dark dark room.
But something goes wrong. Very wrong. And in the dark, dark room something things can't stay secret forever.
(From Goodreads)

Genre: Mystery
Why I Picked This Book:
The premise had caught my attention and then I read some really great reviews including
this one from Rebel Mommy Book Blog
that made it impossible to resist.
My Impression:
Wow! Talk about getting pulled into a story. From the beginning when we meet Nora as she's running through the woods in terror I wanted to know what had happened and what was going to happen. The story is told in a series of extended flashbacks. We really meet Nora in the hospital as she's trying to figure out what exactly landed her there. From the start I liked Nora. She's intelligent and reserved to the point of being kind of a hermit. She's remade herself from the girl she was in school to the point of going by a different name and I really respected and understood her desire to do that. There were times I wanted to shake her a little but everything she did I understood which made the times when she was dragging her feet or overthinking easier to deal with. We see the rest of the characters through her eyes and especially with Tom, Mel, Flo they can seem a little one dimensional. This too feels intentional as Nora herself doesn't know much about them and is trying to figure out who they are and how they fit in. Nina, Nora's friend from childhood, is more developed and I really liked her. You never know what is going to come out of her mouth which does put Nora and the others on edge a time or two but I liked how straight forward she was.
The setting could not have been creepier. I could really picture this big glass house, almost devoid of all comfort, out in the middle of no where and cut off from the world. I could really just see it. The atmosphere in the house just feels heavy. Even when everything is going fine if slightly awkward something is most definitely off. There are bits of foreshadowing that are emphasized by Nora's thoughts in the hospital that are really just wonderfully creepy.
The mystery itself was gripping. The pace was fantastic and I never felt like it dragged or got caught up in unnecessary details. I listened to this on audio and at the end found myself standing perfectly still in my kitchen staring into space and focusing on what was happening. I'm pretty sure I was holding my breath! I did guess a lot of the hows, whys, and whos, but it in no way dampened my enjoyment in the book. By the last few chapters I just couldn't stop listening. I HAD to know how it was all going to work out!
I listened to the audio for this book and I can't say enough good things about it. Imogen Church is a new to me narrator but I will be searching out any other books she narrates. Her range with the different voices was amazing and never felt forced or fake. If you're an audio fan this is one of the best I've listened too.
Would I Read More of this Series/Author?:
Definitely! I'm looking forward to finding other books by Ware.
Would I Recommend this Book?:
Definitely! And if you are a fan of audio I definitely recommend going that route.