It's Friday linkup time! I'm linking up with the Book Blogger Hop hosted by
Coffee Addicted Writer
, Book Beginnings of Fridays hosted by
Rose City Reader
, and the Friday 56 hosted by
Freda's Voice
.
This Week's Book Blogger Question:
Do you believe audio books are the future and why do you believe?
My Answer:
I'm a big fan of audio books. I especially love listening to them when I'm cleaning. I've found I'm extra thorough if I'm enjoying my book! However, there are lots of times audio books don't work. So while I think audio books are a great addition to reading I don't think they'll full replace print books anytime soon.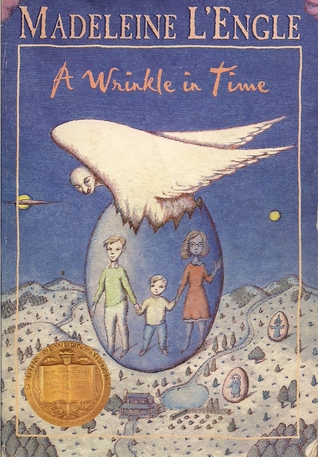 This week's book was one of my childhood favorites. I remember absolutely loving
A Wrinkle in Time by Madeleine L'Engle
. I remember exactly where it was on the library shelf and what the cover looked like. And I remember absolutely nothing else about it. Rereading this as an adult I've been surprised that I loved it so much. My tastes have never really run to science fiction and this definitely qualifies as such. Not to mention the fact there have been several times I've lost the train of thought of the story and have had to go back. I'm not sure if that's because I'm revisiting the story in audio and it's just not suited to audio or if the book itself is just confusing. I am really enjoying my revisit though.
The Beginning:
It was a dark and stormy night.
My Thoughts:
Yes! This is the actual beginning! It made me so happy to read/listen to that first sentence.
The 56:
Calvin led Meg across the lawn. The shadows of the trees were long and twisted and there was a heavy, sweet, autumnal smell to the air.
My Thoughts:
I"m pretty far past this point so I know what's going to happen next. I do like how calm and homey this scene is when things are moments away from erupting into total chaos.
So what do you think? Keep reading? What were some of your favorite childhood books that are now only vague memories?