Today's Beyond the Books topic hosted by
KissinBlueKaren
is one I've really been looking forward to talking about and seeing how everyone else spends their money. So if I was given a thousand dollars today and told I absolutely had to spend it after I would buy: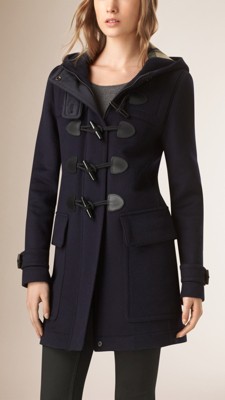 This Straight Fit Duffle Coat in Dark Indigo from Burberry. Granted I'd have to kick in a little but I could manage it. There is nothing I love more than coats and Burberry is my absolute favorite though until I get a few kids out of college their coats are a little above my pay grade! I do have quite a selection but I love this one because of the toggles and I don't have anything in that dark blue. I have royal blue, teal, and light blue but nothing in the indigo/navy range. Definitely a hole in the collection. And we're not going to talk about the green and gray varieties.
The funny thing is when people talk about spending $1000 on purses I think they're crazy but coats I get. Probably because my coats aren't abused too much and my purse has a pretty tough life being crammed with all kinds of stuff and shoved into corners or dumped on the floor.
If I was being semi-responsible with the money I would make a substantial deposit into the Let's Go to Disney World fund. I love Disney and we've been wanting to take the Tornado before he gets much older.
If I was being really really responsible I'd put the money in savings but how exciting is that?
If you had $1000 what would you buy? Do you have any spending weaknesses?