Today's Top Ten Tuesday topic hosted by
The Broke and the Bookish
is Top Ten Books that feature characters who... and after much back and forth over that who I went with write. While I have no interest in writing myself I love books that feature writers. So here is my Top Ten Books that Feature Characters Who Write.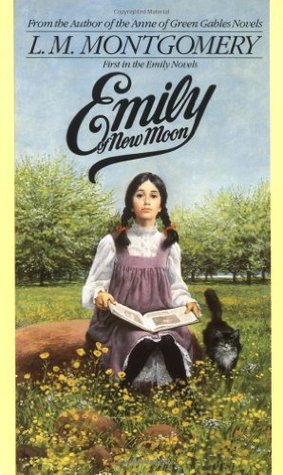 1. Emily from
Emily of New Moon by L.M. Montgomery
- While Anne is also a writer the Emily trilogy focuses much more on the writing process.
2. Mrs. Ariadne Oliver from
Dead Man's Folly by Agatha Christie
- Mrs. Oliver is actually in a number of books mostly with Poirot and I love her. She's a some what stout older woman who is a bit unnerved by her fame as a writer and annoyed with the detective she's created from a country she knows little about. It gives the reader such a glimpse of Agatha herself that I look forward to all the books that contain Mrs. Oliver.
3. Beryl Madison from
Body of Evidence by Patricia Cornwell
- Since Beryl is dead before the book starts we don't really see much of her but we examine her life so thoroughly she might as well have been a character. I loved this book and was seriously creeped out by it at the same time. I think this is where I really discovered what stalking was and it made me seriously paranoid!
4. Emma Dove from
And Then He Kissed Her by Laura Lee Guhrke
- This is one of my absolute favorite historicals and I love that Emma not only works for a living as the secretary of a publisher she dreams of writing books on etiquette AND proves her employer wrong.
5. Jordan Hawke from
Key of Knowledge by Nora Roberts
- I love this book mostly because Dana is a book lover and librarian and Jordan is a writer who specializes in gothic-y horror type books. Plus it's a 2nd chance romance which is my favorite kind.
6. Devin Lyle from
The Hexed by Heather Graham
- The atmosphere in this book is such fun and even better is the fact that the main character writes children's books.
7. Sara Fielding from
Dreaming of You by Lisa Kleypas
- If I was listing the top 5 books that got me reading romance this would be on the list. What's even better is that shy and meek Sara Fielding has written a book that makes her beloved to the common man
8. Andy from
House of Many Shadows by Barbara Michaels
- This isn't a big issue in the book but there's a pretty entertaining scene where Meg discovers who he really is
9. Eliza Makepeace from
The Forgotten Garden by Kate Morton
- Those fairy tales and the book that is woven through the book itself provide so much of the atmosphere. I feel the need to reread this one because I'm sure there's bunches of bits and pieces I missed the first time around.
10. Mr. Melendy from
The Four Story Mistake by Elizabeth Enright
- This was one of my favorite books as a child and I was thrilled when I rediscovered this and the rest of the Melendy books as an adult. It entertains me greatly that Mr. Melendy is a writer because there's so little development on this that he could be a lawyer or an accountant or just about anything else.
So are you a sucker for books with writer characters too? Any others I should read?