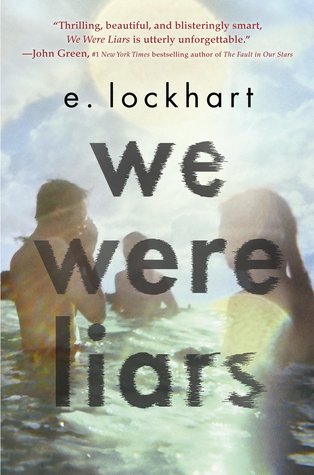 We Were Liars by E. Lockhart
Rating: 4 Stars
Source: Library
Description:
Meet the Sinclairs - a Kennedy-esque family. They're tall, blond, successful and wealthy. Every summer is a paradise spent on their private island. Until the summer that Cadence is 15. 2 years later she's still trying to sort out the events of that summer.

Genre: YA
Why I Picked This Book:
With all the hype and vague reviews around this book how could I not? I liked that people seemed to have mixed feelings about this one. While most of the reviews I saw were positive a number were either kind of eh about it or didn't care for it.
My Impression:
Almost all the reviews I've read for this book have been very vague and not really said much about the actual book. This is going to be another one of those. I think you're either going to like this book or you're not but either way you need to know as little about the plot as possible. This is a book strictly driven by the story unfolding and not really by characters themselves. The book itself is told completely through the eyes of 17 year old Cadence, the oldest Sinclair grandchild, as she tries to piece together what happened during the summer she was 15 and everything changed. Because of this we get only her point of view which can be unreliable and like most first person POVs makes the other characters somewhat one dimensional. In this book I felt that this worked as it's the plot itself that drives the story. Unlike a number of reviewers I felt some sympathy for Cady's mother and the aunts. Yes, they're privileged rich people but their entire way of life is basically out of their control and easily manipulated by their father. While I didn't like them I could understand their fear.
This was a quick read with short chapters. I'm not a hundred percent sure how I feel about it but it was different than any book I've ever read. It may not be one I reread but it will definitely be one that I think about for awhile.
Would I Read More of this Series/Author?:
I'm not running out to buy up every Lockhart book I can find but I'll definitely be looking for other books by her to try.
Would I Recommend this Book?:
Yes, mostly because I want to talk to other people who have read it! Expect a quick read but not light and fluffy.