This week's Top Ten Tuesday topic from
The Broke and the Bookish
is Best Books of 2017 So Far.
I'm sticking with just books I've read in 2017 and not worrying about their pub dates though I am excluding rereads.
1.
The Kitchen Counter Cooking School by Kathleen Flinn
- This one came highly recommended years and years ago yet somehow I never got around to it. Then I managed to read her first book and her third book while never reading this one. Finally when I was thinking of what my first book for 2017 would be I landed on this one and I loved it! It inspired me to really get back to cooking and focusing on my techniques and what ingredients I'm using.
2.
The Last Chance Matinee by Mariah Stewart
- Mariah Stewart is an author that I always enjoy but find somewhat inconsistent. Sometimes her books are lacking just a bit of that something that really pulls you in. This one had everything I wanted - family drama, secrets, and characters who are really trying to figure out what they're going to do now. I aboslutely loved it and can't wait for book #2.
3.
Yes My Accent is Real and Other Things I've Never Told You by Kunal Nayyar
- I'm a huge fan of The Big Bang Theory and have always enjoyed Raj though he's the character that really gets the least development. This memoir by the actor that plays him was fascinating and hilarious.
4.
The Rogue Not Taken by Sarah MacLean
- I read one book by MacLean ages ago and liked it but wasn't wowed. Then I heard a few interviews with her on the podcast Avon on the Air (which really needs to come back) and absolutely loved her. She's smart and funny and knows her romance so I decided I really needed to give her books another try. I really loved this one and can't wait to continue with the rest of the trilogy.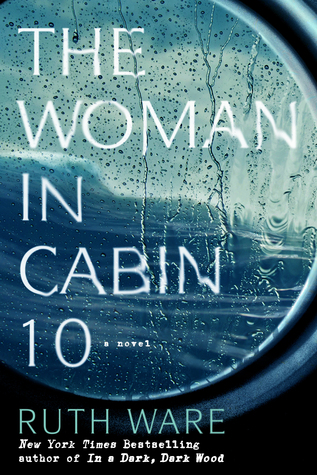 5.
The Woman in Cabin 10 by Ruth Ware
- I loved In a Dark Dark Wood by Ware and couldn't wait to read her 2nd book. I'm sure I didn't hold my breath the entire length of this book but it felt like I did! It doesn't hurt that the narrator (Imogen Church) is amazing if you go the audio route!
6.
The Fifth Petal by Brunonia Barry
- I read this one through a blog tour but didn't really know all that much about it. It wasn't the fastest read but it was so interesting and compelling. There's history and lots of mystery and really memorable characters.
7.
Ready Player One by Ernest Cline
- I had a bit of a love/hate relationship with this one. I loved all the quest part but the real world stuff would sometimes get a little much for me (I'm not much of a science fiction/dystopian reader) but Wil Wheaton's amazing narration kept me going and by the last third I could not stop listening!
8.
Any Day Now by Robyn Carr
- I've really enjoyed the Robyn Carr books I've read but none have really been home runs for me. This one, which was the first in the Sullivan's Crossing book that I read though technically the second, had all the connection that I had missed in the previous books I had read. I'm really looking forward to going back and reading the other books in the series.
9.
Watching the Detectives by Julie Mulhern
- This is absolutely one of my favorite mystery series and this latest entry just may be my favorite yet. I loved the investigation and catching up with the characters and the mystery kept me guessing until the very end.
10.
The Swallow's Nest by Emilie Richards
- I just read this one but knew pretty much from the start that it'd be on this list. Emilie Richards is a favorite author that I hadn't read in awhile and reading this book made me wonder why I'd waited so long to get back to her books and reminded me just why she's a favorite author.
What have been your favorite reads of 2017 so far?