It's Friday linkup time! I'm linking up with the Book Blogger Hop hosted by
Coffee Addicted Writer
, Book Beginnings of Fridays hosted by
Rose City Reader
, and the Friday 56 hosted by
Freda's Voice
This Week's Book Blogger Hop Question:
What is the most fun part/aspect of being a book blogger?
My Answer:
For me the most fun has been just interacting with the community of book bloggers. It's so fun to be able to talk to a group of people who love reading just as much as I do. I also got an email from one of my favorite authors asking me to review her newest book and that made my WEEK!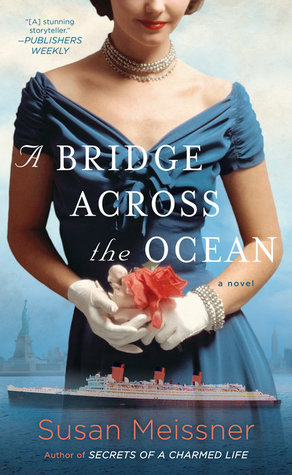 This week's book has just about all of my favorite things rolled into one. There's dual timelines - one present day and one in 1946. There's mystery, history and ghosts! Plus, I've seen some awesome reviews for it from some of my favorite bloggers. So when I saw
A Bridge Across the Ocean by Susan Meissner
at the library I knew there was no way I was leaving it there. So far it's been one of those books that I just want to sneak off and read just a little bit more.
The Beginning:
San Diego, California
Present Day
A friend's baby shower was the last place Brette Caslake expected to encounter a ghost.
My Thoughts:
I'm not sure I'd expect to see a ghost anywhere but a baby shower does seem like an especially unlikely place.
The 56:
You may think you can help them. But it is dangerous, exhausting work, Brette. And it is not your responsibility. Remember that. You owe them nothing.
My Thoughts:
This is a letter to Brette (MC) from an aunt. The aunt is talking about her ability to see ghosts Her tone surprises me. It always seems like in books with ghosts people feel it's their duty to help ghosts but Brette's Aunt clearly does not share that sentiment!
So what do you think? Keep reading?