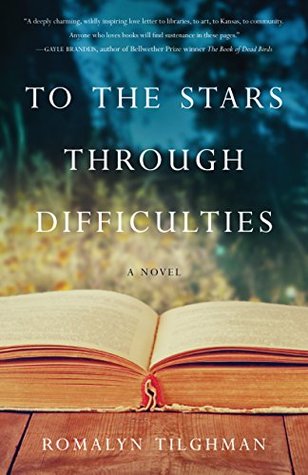 To the Stars Through Difficulties by Romalyn Tilghman
Rating: Very Good
Source: Publicist
Description:
Andrew Carnegie funded fifty-nine public libraries in Kansas in the early 20th century but it was frontier women who organized waffle suppers, minstrel shows, and women's baseball games to buy books to fill them.
Now, a century later, Angelina returns to her father's hometown of New Hope to complete her dissertation on the Carnegie libraries, just as Traci and Gayle arrive in town - Traci as an artist-in-residence at the renovated Carnegie Arts Center and Gayle as a refugee whose neighboring town, Prairie Hill, has just been destroyed by a tornado.
The discovery of an old journal inspires the women to create a library and arts center as the first act of rebuilding Prairie Hill after the tornado. As they work together to raise money for the center, Traci reveals her enormous heart, Angelina discovers that problem-solving is more valuable than her PhD, and Gayle demonstrates that courage is not about waiting out a storm but building a future.
Full of Kansas history from pioneer homesteaders to Carrie Nation to orphan trains To the Stars through Difficulties is a contemporary story of women changing their world and finding their own voices, powers, and self-esteem in the process."

Genre: Fiction
Why I Picked This Book:
I couldn't resist that it's about libraries! Especially not on National Library week.
My Impression:
I'm almost embarrassed with how little I knew about Carnegie's library program. I know who Andrew Carnegie is and I did know he was a philanthropist but I wasn't aware about his library program and how he went about it. That alone is a fascinating story and I'm hoping to read more about it.
The story itself focuses on three women - Angelina, Traci, and Gayle. They're all from different backgrounds and are of different ages but they have one very real thing in common. They're all lost. They've all had some moment that knocked them off their center and are struggling to figure out just how they're going to survive and the answer takes them both to a little town in Kansas (though to be fair - Gayle is already pretty much there). For Angelina, New Hope and the library are her past. A connection to a grandmother that she knew and didn't really know and a place that she felt special. A place that really made her decide what she wanted to do with her life. She's hoping that place can get her back on track. Traci is just looking for a place to land and a place to stay for a little while. She doesn't care where as long as it's safe. Gayle has everything taken away by something she can't control and is now just lost - desperately trying to figure out what to do next. I didn't always like these women but they always interested me.
While the focus is on the three women and the story is told in alternating chapters from their POVs the town of New Hope and neighboring Prairie Hill loom large. The townspeople are realistic without being unrealistic and always added a little more humanity to the story. I especially enjoyed the story line around Traci's "Troublemakers". The history of the state, the area and the women who proceeded the main characters is just as interesting and just as important to the story. I always adore a history element in the books I read and this one did not disappoint. The story of the Carnegie libraries and the people who made it all happen is one I think hasn't gotten nearly enough attention and I'm so glad I was able to learn a little bit through this book.
Overall, this was an interesting read with history and heart. I enjoyed getting to know New Hope and its residents - especially Angelina, Traci and Gayle.
Would I Read More of this Series/Author?:
I would. I found this an interesting read and enjoyed how it taught me a little about library history that I didn't know.
Would I Recommend this Book?:
Definitely! If you enjoy fiction, history and character development I think you'll enjoy this one.