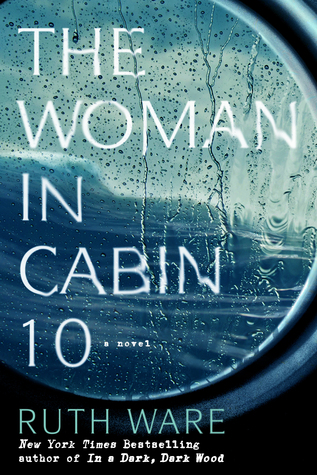 The Woman in Cabin 10 by Ruth Ware
Rating: Loved it!
Source: Library
Description:
In this tightly wound story, Lo Blacklock, a journalist who writes for a travel magazine, has just been given the assignment of a lifetime: a week on a luxury cruise with only a handful of cabins. At first, Lo's stay is nothing but pleasant: the cabins are plush, the dinner parties are sparkling, and the guests are elegant. But as the week wears on, frigid winds whip the deck, gray skies fall, and Lo witnesses what she can only describe as a nightmare: a woman being thrown overboard. The problem? All passengers remain accounted for—and so, the ship sails on as if nothing has happened, despite Lo's desperate attempts to convey that something (or someone) has gone terribly, terribly wrong…
With surprising twists and a setting that proves as uncomfortably claustrophobic as it is eerily beautiful, Ruth Ware offers up another intense read.

Genre: Mystery
Why I Picked This Book:
I loved Ware's previous book
In a Dark Dark Wood
and Imogen Church is one of my absolute favorite narrators so I just couldn't pass this up!
My Impression:
I started holding my breath in the first chapter when Lo opens her bedroom door to find an intruder standing in the hallway and I don't think I let it out until the very last page. The image Ware paints of Lo opening her bedroom door holding her cat only to find herself confronted with a man in a hoodie and latex gloves was so ridiculously vivid that I won't be opening doors in the night with a pretty good bit of hesitation. The bulk of the book takes place on a luxury cruise with luxury and beauty flowing out of every corner and in every detail. Claustrophobia starts as an unsettling feeling but increases until it was almost unbearable as the plot unfolded. I was completely spellbound. I figured out a few things but only right before they happened and it was a delight to have my suspicions confirmed.
If you have to like the main character to enjoy a book than this isn't the book for you. Lo isn't very likable. She's emotional and at times irrational, always poised on the edge of shattering. It's easy to see why she isn't taken seriously at times and there were times I wondered why her boyfriend put up with her. There were times when she came off like a child - acting impulsively than regretting her actions but unaware of how to fix them. I didn't find her too annoying but she is a difficult protagonist. As well there is a slight confusion in the time line. The majority of the book is told from Lo's perspective as events unfold on the ship but sprinkled in are a handful of emails and messages from the outside world that take place later than the actual plot is taken place. I wasn't completely clear on the dates the main story was taken place so there was a little confusion as to what the concern was about. Once I realized they were taking place later in the week I had no trouble getting it sorted out. Neither of these were things that detracted from the book for me but they may effect other's enjoyment of the story.
I absolutely loved this book. I normally have to keep pretty busy to stay focused on an audio books but I can't begin to count the number of times I found myself standing completely still in the middle of a room just listening - waiting to find out what happens next. I found the story fast paced and once again am impressed by Ware's ability to make the atmosphere of the setting seep through pages. I'll be anxiously awaiting her next book.
Audio Note: Imogen Church is an amazing narrator. Her voice is compelling and hypnotic and ridiculously versatile as she voices a number of characters giving them distinct voices without sounding forced or overly theatrical. I would listen to any book that she narrates on the strength of her voice alone.


Would I Read More of this Series/Author?:
Absolutely! Ware really needs to write faster. I'm anxiously waiting her next book
Would I Recommend this Book?:
I would unless you have to like the main character. For me if the plot is compelling enough it doesn't matter if I like the characters or not and this was definitely the case here but if that doesn't work for you than give this a pass.