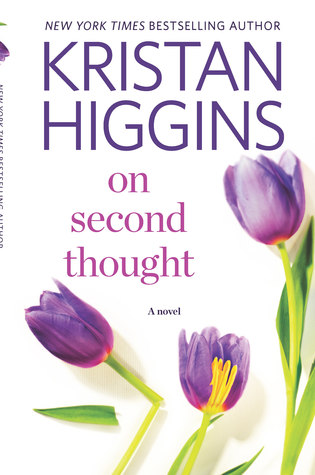 On Second Thought by Kristan Higgins (Amazon link)
Rating: Very Good
Source: Little Bird Publicity for Blog Tour
Description:
Ainsley O'Leary is so ready to get married—she's even found the engagement ring her boyfriend has stashed away. What she doesn't anticipate is being blindsided by a breakup he chronicles in a blog…which (of course) goes viral. Devastated and humiliated, Ainsley turns to her older half sister, Kate, who's struggling with a sudden loss of her own.
Kate's always been the poised, self-assured sister, but becoming a newlywed—and a widow—in the space of four months overwhelms her. Though the sisters were never close, she starts to confide in Ainsley, especially when she learns her late husband was keeping a secret from her.
Despite the murky blended-family dynamic that's always separated them, Ainsley's and Kate's heartaches bind their summer together when they come to terms with the inevitable imperfection of relationships and family—and the possibility of one day finding love again.

Genre: Fiction
Why I Picked This Book:
I enjoyed a previous book by Higgins in one of her contemporary romance series so I was curious to see how she did with a more series book.
My Impression:
Reading this book was just one of those perfect reading experiences. I was sick in bed and wanted something to distract myself from the fact I felt terrible. I didn't really expect it to work but before I knew it I was sucked into the world of Ainsley, Kate, Nathan, Eric and the rest of their world. Sore throat, runny nose, and headache disappeared and I finished this book in a day. It was exactly what I needed - entertaining without being silly, emotional without being melodramatic and full of characters that felt so real I could picture them.
I found the family dynamics interesting in their super messed up blended family situation. Being part of a blended family myself I found the confused loyalty issues that Kate suffers from to be very true and the distance between her and Ainsley felt very natural. As well Ainsley's desire for a closer relationship felt true to form. This feels like a real family with history, hidden jokes, and the regular irritations that occur in any family.
I loved Ainsley. I loved how hard she tried just to be happy and to take care of those around her. She desperately wanted to be close to her sister but had never really been sure how to make that happen. It's easy to understand that her desire to belong is one of the things that keeps her with Eric despite everyone around her knowing he's not worth her effort. I loved how her story line progressed and that not only did her relationships with those around her develop but she got a better handle on what she herself wanted. It was really a joy to watch and I'd really like a few of her outfits!
I didn't connect with Kate's story as much as I did Aisnley's. I liked Kate and my heart broke for her multiple times as she struggles to figure out just what her life has become and what she's going to do. My main problem was with the way her story developed. It always felt more like things happened to her versus her taking control of her life and I wanted better for her.
The dual narration really worked and I loved seeing through the eyes of both women. I loved both stories and I loved seeing their thoughts on each other and the people in their lives. This was a thoroughly enjoyable read with characters I won't forget any time soon.
Would I Read More of this Series/Author?:
Absolutely! I really enjoyed this read.
Would I Recommend this Book?:
If you like women's fiction this was a really good read. Perfect for a beach read or a sick day or just a little escapist reading!