It's Friday linkup time! I'm linking up with the Book Blogger Hop hosted by
Coffee Addicted Writer
, Book Beginnings of Fridays hosted by
Rose City Reader
, and the Friday 56 hosted by
Freda's Voice
This Week's Book Blogger Hop Question:
Can you read and watch TV or listen to the radio at the same time?
My Answer:
Sometimes. If it's a TV show I have no interest in and that isn't too action packed I can typically block out the noise and focus on my books. I can also watch baseball or football games if they aren't too exciting because I'll read awhile and then check in on the score and if nothing has really changed I'll go back to my book. For music I typically can't listen to music with lyrics but there are times when I have to have classical music on if the house is too quiet!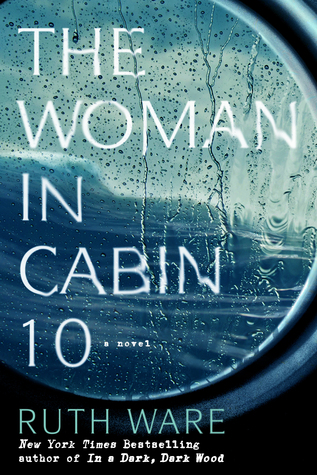 This week's book is one I'm super excited about -
The Woman in Cabin 10 by Ruth Ware
. I absolutely loved her last book -
In a Dark Dark Wood
and have been anxiously awaiting the audio of this one since I first got on the wait list back in October. I'm about 2/3 through with this one and I must say - it has me hooked!
The Beginning:
"The first inkling that something was wrong was waking in darkness to find the cat pawing at my face."
My Thoughts:
While a cat pawing at your face in the middle of the night is never a good thing it's only going to get worse for Lo. This was a scene I was glad I wasn't reading at bedtime!
The 56:
Everything was white. The pale wood floor. The white velvet sofas. The long raw-silk curtains. The flawless walls. It was spectacularly impractical for a public vessel - deliberately so, I had to assume.
My Thoughts:
I just love the imagery here. The all white luxurious room with a somewhat sinister feel lurking around the edges.
So what do you think? Keep reading?