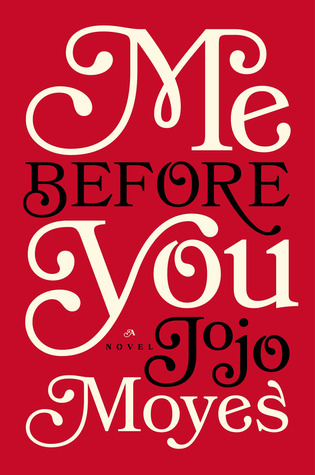 Me Before You by Jojo Moyes
Rating: Very Good
Source: Library
Description:
Lou Clark knows lots of things. She knows how many footsteps there are between the bus stop and home. She knows she likes working in The Buttered Bun tea shop and she knows she might not love her boyfriend Patrick. What Lou doesn't know is she's about to lose her job or that knowing what's coming is what keeps her sane. Will Traynor knows his motorcycle accident took away his desire to live. He knows everything feels very small and rather joyless now and he knows exactly how he's going to put a stop to that. What Will doesn't know is that Lou is about to burst into his world in a riot of colour. And neither of them knows they're going to change the other for all time. (From Goodreads)

Genre: Fiction
Why I Picked This Book:
I'm not going to lie. While this book has been on my radar for awhile I wasn't really interested in it until I saw the movie trailer!
My Impression:
It's been a few days since I put this book down for the last time and I think I've cleared my head enough to actually be somewhat coherent about what I thought of it. For starters I loved Lou. She has so much on her plate and so much responsibility she is trying to shoulder all the while being pushed to the side or viewed as second best by the people who should value her most. However, Lou is still very much Lou and keeps going forward and trying hard to do her best.
I don't think I realized how guarded Lou was until she started working with Will and their friendship began to develop. Lou gives as good as she gets and seeing Will startled by that was pretty funny. I loved the way their friendship developed. It wasn't easy and it wasn't quick but it rang so true and authentic. I loved how they both push each other to do more, to want more, and to not give up.
One of the primary issues in this book is the right to die. I don't think I realized going in just how big of an issue it was going to be. I was a little worried that this would push the author's feelings on the issue and I'd feel like I was being lectured which is most definitely something I don't enjoy. However, Moyes was amazing with how she handled this. She shows the reader so many different stories and perspectives that it really made me think about it not necessarily differently but with a much wider view while never once making me feel like I was getting an agenda one way or the other pushed at me. My heart broke for everyone involved regardless of my thoughts on the situation.
I also really loved Lou's relationship with her her sister Treena and how it evolved. So often sisters in books are either the best of friends or the worst of enemies with just about nothing in between. But here they are both. It's a complex relationship with hidden resentments on both sides but also a strong connection. Moyes is a magician when it comes to making relationships feel completely real and perfectly balancing love and conflict.
The only thing that didn't really work for me was the sudden and kind of random feeling head jumping. We are in Lou's head for 2/3 of the book and then all of a sudden there's a short chapter from Nathan's POV and then Stephen Traynor and then back to Lou and then over to Treena. That really threw me at first and I had a hard time switching gears. I actually really enjoyed hearing from all the different POVs but I think I would have enjoyed it more if it had happened throughout the book instead of just the end.
One of the things that had me hesitating on picking up this book was I had heard it called an ugly cry read. Now at the best of times pretty crying is not my super power so I wasn't sure I wanted to dive into the book that made normal people cry ugly. For me, while I definitely did cry it didn't turn into full
Marley and Me
level sobbing. A fact which I'm sure my family is very grateful for since I finished this in the car while heading off on vacation. I did sit very quietly for awhile pondering and trying to feel a bit less shattered.
This was my first Jojo Moyes book and it definitely won't be my last. I was worried she wouldn't hold up to all the hype but not only did she live up to it but she surpassed it. I will definitely be reading more from her.
Would I Read More of this Series/Author?:
Absolutely. I loved Moyes' writing and am looking forward to reading more of her work. It's going to take me some time before I'm ready to pick up
After You
though!
Would I Recommend this Book?:
Definitely! I was afraid it was going to be too sad but it's such a great read!