It's Friday linkup time! I'm linking up with the Book Blogger Hop hosted by
Coffee Addicted Writer
, Book Beginnings of Fridays hosted by
Rose City Reader
, and the Friday 56 hosted by
Freda's Voice
This Week's Book Blogger Hop Question:
So I've been off schedule with the questions on the list and the question this week is one I answered 2 weeks ago. So I'm going to answer the question I missed and hopefully after that I'll be back on schedule.
Name an author or authors that you have read the most of his or her books and would recommend to others.
My Answer:
Well this one is easy! Definitely Agatha Christie! Not only have I read all of her 80+ mysteries but I've also read several of her books under the Mary Westmacott name and her nonfiction books like her Autobiography and Come Tell Me How You Live which is a memoir about her time on archaeological digs with her husband, renowned archaeologist Max Mallowan.
If you're looking to try Christie's mysteries I recommend
Death on the Nile
(Poirot),
Sleeping Murder
(Marple),
And Then There Were None
(stand alone),
Murder on the Orient Express
(Poirot), and any of her short story collections.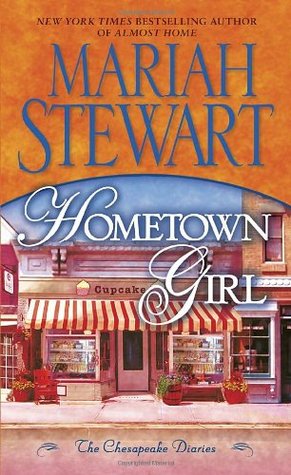 This week's book is from Mariah Stewart's Chesapeake Diaries, a series that I love but that I've had really mixed results with. I really liked the first book, DNF'd the 2nd, and like the 3rd. Then I went up towards the more recent releases and though #7 was okay but ended up loving 8 and 9. Now I'm back towards the beginning and am trying to catch up with the middle books starting with the 4th in the series, Hometown Girl. I've met the main couple in other books and liked them so I have hopes that this one will not disappoint.
The Beginning:
At the moment the moon began its descent and the sun started to rise, the back door of the old farmhouse opened and a petite woman with a long strawberry blond ponytail stepped out onto the porch.
My Thoughts:
Well this isn't the most attention grabbing first sentence but it does give me a picture of both the house and the main character.
The 56:
"Can we speak frankly?" Curtis's eyes had narrowed almost to the point of slits. He didn't wait for a response. "Your father was a great disappointment to me. How do I know the apple hasn't fallen too close to the tree?"
My Thoughts:
I know enough about the story from later books to understand Curtis's point of view but I can imagine how frustrating it would be to be judged by the sins of those that came before you.
So what do you think? Keep reading? Do you have a series that reads inconsistently but the good is good enough that you're not ready to let it go?