Beth Fish Reads
for Weekend Cooking
I don't think it's any secret that I love cookbooks and this past year thanks to review books, figuring out the online holds at my library, and Trish at
Love, Laughter and a Touch of Insanity
's Cookbook Challenge I've tried out a lot of new ones! So looking back here were the ones I found myself reaching for the most. This is only for books that were new to me in 2014
The Tried and True
Come Home to Supper by Christy Jordan
I love Christy's first book Southern Plate and her blog by the same name so I was excited to get my hands on her 2nd book Come Home to Supper. This is a handy book with tons of perfect weeknight dinner recipes.
The Surprise
The Chopped Cookbook from Food Network
While I'm a huge fan of the show I wasn't sure what to expect from a Chopped cookbook. What I found were some adventurous but not crazy recipes and my family is still talking about the pretzel crusted pork sliders!
Mayim's Vegan Table
While I'm not a vegan I love the idea of getting more meatless meals on rotation both for health and for budget. Many of Mayim's recipes were naturally vegan or would easily be made vegetarian by substituting regular mayo for the vegannaise. The meals are affordable and accessible.
Special Occasion
My Irish Table by Cathal Armstrong and David Hagedon
I have had a cold for the past week and my biggest dream is for someone to make me the chicken noodle soup from this cookbook. It's amazing and while time consuming isn't complicated. The recipe is drool worthy and every recipe I've tried has come out perfectly.
Baking: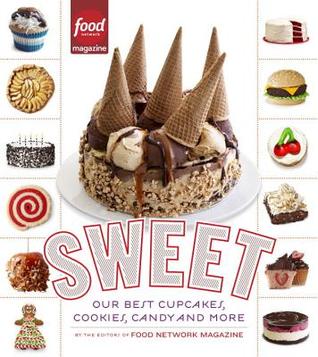 Sweets from Food Network
I wasn't sure what to expect from this book based off the elaborate cover but while there is a section on decorating there's lots of recipe for those of us who aren't exactly artistically inclined. And the whoppie pies were crazy good.
Ovenly by Agatha Kulaga and Erin Patinkin
If I had to pick a favorite new cookbook this would probably be it. It's probably not the most family friendly but it's perfect for gift giving or just for treating yourself. I highly recommend the shortbread, the scones and the bourbon chocolate chip cookies.
Memoirs:
Burnt Toast by Kathleen Flinn
I laughed, I cried and I really wanted to eat. I've heard this was Flinn's weakest book but I absolutely loved it. I'm really looking forward to reading the first 2.
Delancey by Molly Wizenberg
If you can read this book without wanting pizza I don't think we can be friends. I don't even really love pizza but I would stand in an all day line for pizza from Delancey without hesitation. Plus if you've ever wondered what opening a restaurant is like I imagine this is a pretty true to life look.
So these are my favorite foodie books from 2014. What new cookbooks ended up on your shelf this year?