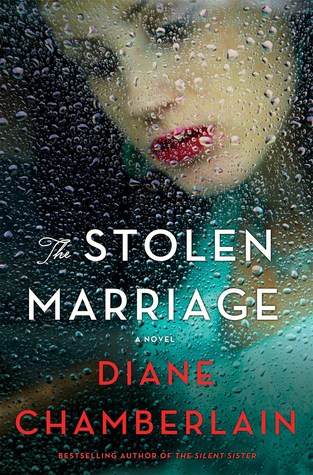 The Stolen Marriage by Diane Chamberlain (Amazon Link)
Rating: Good
Source: Publisher

Description:
In 1944, twenty-three-year-old Tess DeMello abruptly ends her engagement to the love of her life when she marries a mysterious stranger and moves to Hickory, North Carolina, a small town struggling with racial tension and the hardships imposed by World War II. Tess's new husband, Henry Kraft, is a secretive man who often stays out all night, hides money from his new wife, and shows no interest in making love. Tess quickly realizes she's trapped in a strange and loveless marriage with no way out.
The people of Hickory love and respect Henry and see Tess as an outsider, treating her with suspicion and disdain, especially after one of the town's prominent citizens dies in a terrible accident and Tess is blamed. Tess suspects people are talking about her, plotting behind her back, and following her as she walks around town. What does everyone know about Henry that she does not? Feeling alone and adrift, Tess turns to the one person who seems to understand her, a local medium who gives her hope but seems to know more than he's letting on.
When a sudden polio epidemic strikes the town, the townspeople band together to build a polio hospital. Tess, who has a nursing degree, bucks Henry's wishes and begins to work at the hospital, finding meaning in nursing the young victims. Yet at home, Henry's actions grow more alarming by the day. As Tess works to save the lives of her patients, can she untangle her husband's mysterious behavior and save her own life?
Genre: Fiction - Historical

Why I Picked This Book:
I've seen Diane Chamberlain's books around for sometime and have always wanted to try them.

My Impression:
This book was really beautiful. The writing was gorgeous but not overly lyrical, the setting was brought perfectly to life and the characters were extraordinarily vivid. It was also incredibly sad. I've heard quite a lot about polio from my Grandmother who grew up in a small southern town in the 30s and 40s. Entire families were decimated in a week's time with no warning. The boy who played in a high school football game one Friday night was dead by the next Friday night. Swimming pools were closed and people stayed in their houses hoping to protect their children from the merciless disease. In the age of modern medicine I've always had a hard time imagining that level of helplessness and fear though the imagery was so vividly grim. However, Chamberlain's book brought it fully to life.
My heart broke for Tess. She's so full of life and happiness and determination in the beginning of the timeline and we then we see her so lost and scared and empty. She's alone in a houseful of people with no support whatsoever except for little scraps of kindness she finds in unexpected places. But when the polio epidemic hits Tess's new home of Hickory, North Carolina the sun starts to shine again though the sky is far from cloudless.
While there were tears in my eyes many times through out the reading of this book it was all worth it to see Tess slowly start to find herself again and stand on shaky legs. I would have liked more hope or a twist of humor to lighten things a little but that is personal preference and not a problem with the book. If you're looking for vivid historical fiction that brings a time period to life than this is a great choice - just have tissues nearby!

Would I Read More of this Series/Author?
I would though I think I have to be in the right mood for her books. While they aren't especially dark there is a bit more sadness than I'm typically drawn to.

Would I Recommend this Book?
If you enjoy historical fiction with fully fleshed characters I think you'd enjoy this one.