Top Ten Tuesday from The Broke and the Bookish is on vacation until August so until then I'm left to my own devices! Earlier this summer I talked about Series I Want to Start which led me to thinking about a connected topic - Series I Want to Continue. So often I read the first book in a series and really enjoy it but it takes me ages to get around to the next book. As well there are so many series that I've read for years but over the last little while have gotten away from me and I'm not several books behind. Here are the top ten series I want to catch up on!
1.
The Duncan Kincaid and Gemma James series by Deborah Crombie
- This was one of the first police procedural series I ever read and I fell in love pretty much immediately. I'd really love to go back and start at the beginning since it's been 20+ years since I've read the first one but unfortunately who has time for that? For now I'd be happy to get caught up on the series by reading #14 through 17.
2.
Chief Inspector Armand Gamache by Louise Penny
- I read the first Armand Gamache earlier this year and really enjoyed it. I've heard the series gets even better as it goes along and I'm excited to see how the characters develop.
3.
Ruth Galloway by Elly Griffiths
- I love a little history mixed in with my mystery and Griffiths does just that in her Ruth Galloway series. I read the first one last year and really liked it.
4.
The Lunar Chronicles by Marissa Meyer
- I read
Cinder
and
Scarlet
last year and loved them but haven't picked up
Cress
yet. I'm really excited to spend more time with the characters and see how everything works out.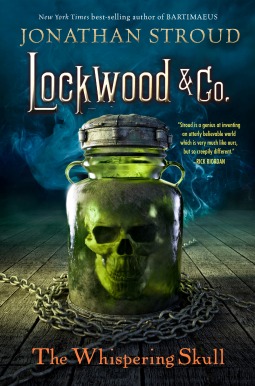 5.
Lockwood & Co by Jonathan Stroud
- I read The
Screaming Staircase
last year and really enjoyed this dark middle grade book where only children can see and fight the ghosts that threaten everyone. The 2nd one looks even better.
6.
Percy Jackson and the Olympians by Rick Riordan
- I listened to the first book and really loved it. It was fun to see how Riordan wove mythology into the modern world and I loved the team of characters.
7.
Hitchhiker's Guide to the Galaxy by Douglas Adams
- I've read the first book in the series several times but never advanced beyond that. I love Adams' sense of humor and way of looking at the world.
8.
Mrs. Pollifax by Dorothy Gilman
- This isn't a series I'm really behind on but more one I want to revisit. Years ago when there weren't so many cozy mystery options I read a number of the Mrs. Pollifax books but I was limited to what was in my library. I'd really love to go back and read them all in order.
9.
Mary Russell by Laurie R. King
- I've really enjoyed this series about Mary Russell and her husband, an elderly Sherlock Holmes. I'm working on catching up but I'm still several books behind.
10.
Lord Peter Wimsey by Dorothy L. Sayers
- I've read and reread all of Agatha Christie's books more than I can count and quite a number of Ngaio Marsh and Patricia Wentworth but I've sadly neglected Sayers. I read the first Wimsey book a year or two ago but I'd really like to continue the series.
Any series that you've started, loved and then neglected?