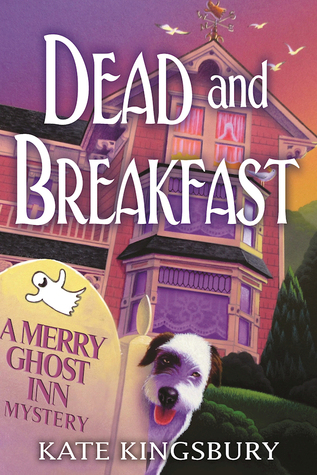 Dead and Breakfast: A Merry Ghost Inn Mystery #1 by Kate Kingsbury
Rating: Good
Source: NetGalley
Description:
Melanie West is getting her life back on track after a messy divorce when her grandmother, Liza Harris, asks her to open a B&B with her. Together, Liza and Melanie purchase a purportedly haunted mansion on the Oregon coast and jump right into clearing out the cobwebs. But while attempting to remove wallpaper in an upstairs bedroom, the new B&B owners stumble upon a very real skeleton in their closet.
The police suspect the skeleton is that of the wife of the previous owner of the B&B, but no one in town seems to want to say much about her. As the inn owners try to juggle renovations with their own amateur investigations, their grand opening looms closer and closer--and a friendly ghost in their walls starts playing tricks. But it all comes crashing to a halt when a new body is found stabbed to death on the beach below the inn--the victim chillingly close in resemblance to Melanie herself.
It seems someone doesn't appreciate newcomers prying into the small town's past, and now it's up to Melanie and Liza to get to the bottom of these murders to save their business...and their lives.

Genre: Mystery - Cozy
Why I Picked This Book:
Home renovation, an inn, and a very literal skeleton in a closest. How could I resist?
My Impression:
What a fun cozy! The book starts with Melanie and her grandmother (who she is now to call Liza) beginning on the massive task of stripping wallpaper in one of the soon-to-be bedrooms in their soon-to-be inn and discovering a hidden room with a very real skeleton in it. From there the mystery unfolds as the identity of the skeleton quickly becomes obvious but the police have it seven year old murder way down on their priority list. In order to get things moving Liza and Melanie start investigating on their own all while trying to get the renovation work for the inn completed.
There was so much I liked about this story. I enjoyed Liza and Melanie's relationship and that they worried about each other and worked well as a team. There's hints of a potential relationship in both of their futures that seem pretty fun. I love the house and that some of the actual complications (like bathrooms, table options, etc) about turning it into an inn were discussed. The town seems interesting with lots of little shops and restaurants and will make a great setting for future books. I also am really intrigued but the open ended subplot involving Melanie's mother. I'm looking forward to seeing where that will go. The mystery was very well done and super fast paced. I flew through the book and was happy to see that not only did the murderer make sense but it wasn't flashing red warning sign obvious.
Unfortunately, there were a few things I didn't like quite as much. While I have no doubt that a fairly rural area would have one major crime team that all the little towns share I didn't believe that the primary detective being called away would mean that the entire second floor of the inn would be closed off until his return. There were also a few vague things that I didn't quite understand. The timeline that Melanie and Liza were working under was never really explained - were they weeks off from opening or months? There was definitely a feel of deadline looming but I was never sure if that was because there was just so much work to be done or because guests were literally going to be arriving suitcase in hand in just a few days. Also, as much as I love a secret room this one kind of bothered me because it was so unexplained. Was it an actual room? What else was in it? Or was it a closest which would make more sense and also be easier to hide? These are all minor issues and will definitely not keep me from continuing with the series.
Overall, I found this to be a fun, fast paced cozy mystery read with lots of potential for a really great series. While there were a few minor flaws I'm looking forward to seeing where the series goes and will definitely be keeping a look out for the next book about Melanie and Liza.
Would I Read More of this Series/Author?:
I absolutely would! I'm looking forward to reading more of this series and going back and reading her Pennyfoot Hotel books as well.
Would I Recommend this Book?:
If you like cozy mysteries I think you would really enjoy this one!