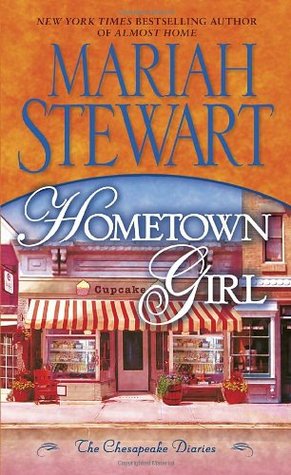 Hometown Girl by Mariah Stewart (Amazon)
This is the 4th book in the Chesapeake Bay Diaries by Mariah Stewart. It's a small town series that splits the difference between women's fiction and contemporary romance. There is a love story and each book does focus on a particular couple but their friends and family do make up a large part of the story and with each book we get a little better picture of the town of St. Dennis, Maryland.
Hometown Girl
focuses on widow and cupcake baker Brooke Bowers and attorney Jesse Enright.
I've been a long time reader of Mariah Stewart's romantic suspense series but I've had a somewhat inconsistent relationship with this series. The 2nd book was a DNF because I just didn't care, the 1st, 3rd, and 7th books were pleasant but not memorable, and then I really enjoyed the 8th and 9th book. So going in I wasn't quite sure what I'd think about book number 4. Thankfully I ended up really enjoying it. I think it landed in the 3.5 to 4 star range. It was enjoyable read with likable characters but not necessarily one that really hooked me and will stay with me.
What I Liked
1. The characters - this is a character driven book (and series). I love seeing how everyone relates to each other and revisiting some of the series regulars like Grace and Curtis. I liked that Brooke and Jesse were such hard workers and were really trying hard to be not only to accomplish what they wanted to accomplish but be the people they wanted to be.
2. The development - Brooke was a total mean girl in high school. She was beautiful and popular and it didn't really bring out the best in her. I really liked that not only had she grown out of the mean girl role but she was really embarrassed about her behavior without dragging up the past too much. Jesse's relationship with his Grandfather is still a little strained as they try to repair the damage done by Jesse's very black sheep father. It's not just an easy reunion which felt fairly realistic.
3. The timing - For starters Brook has been a widow for several years. She misses her late husband dearly and still grieves for their lost future to some extent but it's not fresh grief and the growing relationship between Brooke and Jesse felt genuine. Also, Brooke and Jesse had been friends for sometime before it developed into anything more so it wasn't insta-love which is nice.
What I Didn't Like:
1. There's a shallowness to the books. The characters all have hearts of gold even if they're somewhat cranky on the outside. They're all incredibly talented and financially well situated. This makes for fabulous reading when you're in the mood for something light but leaves a little something to be desired if you're wanting more substance.

What I Loved:
The Cupcakes! Did I mention Brooke is trying to start a cupcake bakery? I really enjoyed that she isn't just buying a storefront and setting up shop to instant raves and epic sales. Instead she's trying to cater parties and sell her cupcakes at a coffee shop and an ice cream shop to gain a following before she starts an actual business which was a nice shot of realism.
And Brooke spends a lot of time making cupcakes and when she's not making them she's talking about them or someone else is talking about them. I'm a big cupcake fan as it is but by the end of this book it was all I could do not to go whip up a batch of cupcakes immediately but since it was late at night I restrained myself. That next morning is another story though! My cupcakes aren't going to be as pretty as Brooke's but they're pretty tasty - especially when I use this recipe from
The Cookies and Cups Cookbook by Shelly Jaronsky.
While this book didn't have any of Brooke's more unusual cupcake flavors this recipe for Banana Cupcakes is definitely calling my name!
Banana Cupcakes
1/2 cup salted butter, at room temperature
1 cup packed light brown sugar
1/4 cup granulated sugar
2 large eggs
1 teaspoon vanilla extract
1 heaping cup mashed banana (about 3 very ripe medium bananas)
1/4 cup buttermilk
1 teaspoon baking powder
1/2 teaspoon baking soda
1/2 teaspoon salt
2 cups all purpose flour
Preheat the oven to 350. Line a muffin tin with paper liners
In the bowl of a stand mixer fitted with the paddle attachment, mix the butter and both sugars on medium speed for 2 minutes. Add the eggs, vanilla, mashed banana, and buttermilk, continuing to mix until evenly incorporated and smooth, scraping the sides of the bowl as necessary. With the mixer still running, add the baking powder, baking soda, and salt and mix until combined. (I'll be using my hand mixer for this)
Turn the speed to low and add the flour, mixing until just incorporated.
Fill the muffin cups two-thirds full with batter. Bake for 20 minutes or until a toothpick inserted into the center comes out clean. Allow the cupcakes to cool for 5 minutes in the muffin tin, then transfer to a wire rack to cool completely before frosting.
Jaronsky lists several different frostings to try with the cupcakes but I'm going with a classic Cream Cheese Frosting because it's my favorite!
Cream Cheese Frosting
8 ounces cream cheese, at room temperature
1/2 cup salted butter, at room temperature
4 cups powdered sugar
1 to 2 tablespoons milk or heavy cream
In a bowl of a stand mixer fitted with paddle attachment (I'll be using a mixing bowl and my hand mixer), mix the butter and cream cheese on medium speed 1 to 2 minutes until smooth and creamy.
Turn the speed to low and slowly add the powdered sugar. Once incorporated, turn the speed back up to medium and continue mixing until smooth. Add 1 tablespoon of the milk or cream and continue mixing. If necessary, add an additional tablespoon of milk until the desired consistency is reached.
That is how I'm getting my cupcake fix today. Any food a book has made you crave lately?