It's Friday linkup time! I'm linking up with the Book Blogger Hop hosted by
Coffee Addicted Writer
, Book Beginnings of Fridays hosted by
Rose City Reader
, and the Friday 56 hosted by
Freda's Voice
This Week's Book Blogger Question:
Have you ever wanted to write a book?
My Answer:
So there a few more parts to the actual question but since my answer makes the rest not applicable I'm leaving them off. For some reason writing has never pulled at me. When I was in my early teens I'd get caught up in a specific scene or character and try and write my own but it was always writing someone else's work in order to process what I had read and not creating my own stories.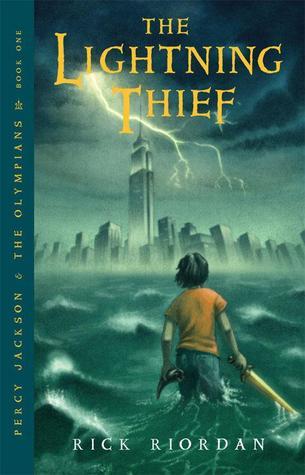 This week's book is one I've been meaning to read for ages! My daughter discovered Rick Riordan and his first Percy Jackson book entitled
The Lightning Thief
a few years after it came out and immediately fell in love with the series. She's read them all as well as everything else Riordan has ever written. I loved the mythology angle and always meant to read them myself but never managed it until I finally got my hands on the audio a few days ago. I'm almost halfway done and am loving it!
The Beginning:
Look, I didn't want to be a half-blood.
My Thoughts:
That's quite a beginning! Of course I do know the premise so I can guess what half-blood means but it's still intriguing and I like how blunt the narration is.
The 56:
"He's the one. He must be."
"Silence, Annabeth" the man said. "He's still conscious. Bring him inside."
My Thoughts:
We've just got through a huge traumatic scene and now Percy has landed somewhere and has no idea what's going on. It definitely kept me turning pages to figure out if he is in fact "the one" and what that means!
So what do you think? Keep reading?