It's Friday linkup time! I'm linking up with the Book Blogger Hop hosted by
Coffee Addicted Writer
, Book Beginnings of Fridays hosted by
Rose City Reader
, and the Friday 56 hosted by
Freda's Voice
This Week's Book Blogger Hop Question:
Do you read via ebook and if so which one/ones and why?
My Answer:
I use a Kindle Paperwhite and I love it. I went with a Kindle for a few reasons. The first one is that I'm a big fan of Amazon in general and when I finally decided to join the world of ebooks it looked like the Nook wouldn't be around that much longer. Also, when I was looking at how you got ebooks from my library's digital site the Kindle instructions were basically click 2 buttons whereas the Nook instructions involved connecting the device and a few other things. I have a big Kindle Fire (9" I think) which I got first but found it was a little to heavy to read on for long periods of time and I found the glare a little tougher on my eyes. Now I use my Fire as a tablet and do a lot of streaming Netflix or Hulu on it and my Paperwhite for reading.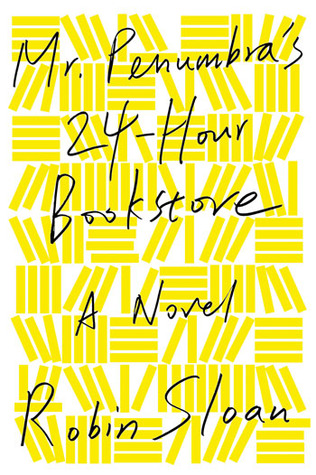 This week's book is one that's been on my TBR for ages and ages basically because the title features the word "bookstore". I'm a sucker for any book about bookish related stuff so just the title of
Mr. Penumbra's 24-Hour Bookstore by Robin Sloan
called my name and when I saw my library had it on audio I couldn't resist it! So far it hasn't been exactly what I expected but not in a bad way. It's weirder and quirkier and not as bookish and lots of fun.
The Beginning:
Lost in the shadows of the shelves, I almost fall off the ladder.
My Thoughts:
While I wouldn't want to fall off a ladder I love the idea of being lost in all those shelves!
The 56:
They're all playing the same song, or dancing the same dance, or - yes- solving the same puzzle.
My Thoughts:
The main character is starting to figure a few things out and it's so fun to watch it all untangle! I haven't figured out what the puzzle is exactly but I'm looking forward to finding out!
So what do you think? Keep reading? Are you an ebook fan or a paper only reader?