This week's Top Ten Tuesday topic from
The Broke and the Bookish
is Ten Finished Series that I Haven't Finished yet. My first thought was "All of them" but the more I got to thinking the more that that finished part trips me up. I'm books and books behind with pretty much every series I'm reading but pretty much all of them - especially on the mystery side are still ongoing. So instead I'm going to take a slightly different route and go with my top series that I'm really (really) behind in!
1.
The Mary Russell series by Laurie R. King
- I love this series! Sherlock and Mary are fantastic together and I love just watching them think. Plus it's nice to see the great Sherlock Holmes quite a bit older and milder (for Holmes at least). The mysteries are always fascinating and just incredibly clever.
Last Book Read
:
Locked Rooms
- Book 8
Most Recent Book Published
:
Dreaming Spies
- Book 13 published in Februrary.
2.
Library Lovers series by Jenn McKinlay
- There's libraries, there's murder, there's a book club and just a smidge of romance. Not to mention the characters are interesting and McKinlay's pacing makes for a book I always fly throug.
Last Book Read:
Book, Line, and Sinker
- Book 3
Most Recent Book Published
:
On Borrowed Time
- Book 5 but 6 is about to be published.
3.
Duncan Kincaid and Gemma James series by Deborah Crombie
- This has been one of my favorite series for probably close to 20 years. I've read it from it's more police procedural early days to the darker but still with a touch of humor and humanity recent books.
Last Book Read
:
Necessary as Blood
- Book 13
Most Recent Book Published
:
To Dwell in Darkness
- Book 16
4. Chesapeake Diaries by Mariah Stewart - I'm not exactly behind on this series but I've read the first few and the last few but am missing a big chunk in the middle. It hasn't been the most consistent series for me but when it's good I really enjoy the story.
Books Read: 1 - 3 and 7 - 9
Books To Read: 4 - 6
5. Her Royal Spyness by Rhys Bowen - This a fun cozy series that centers around Lady Victoria Georgina Eugenie (or Georgie for short) who is 34th in line for the throne and regularly short of money.
Last Book Read: Royal Blood - Book 4
Most Recent Book Published: Malice at the Palace - Book 9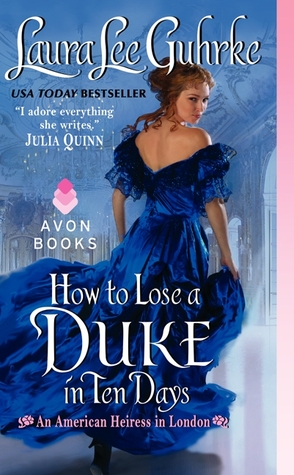 6.
An American Heiress by Laura Lee Guhrke
- Laura Lee Guhrke is one of my favorite historical romance authors and this trilogy looks especially interesting. I love the American heiress aspect and all the story lines really appeal to me. There are 3 -
When the Marquis Met His Match
,
How to Lose a Duke in Ten Days
, and
Catch a Falling Heiress
. I've read none of these but I'm familiar enough with the author I can include this one!
7. Love by Numbers Series by Sarah MacLean - I read and really loved the first one in the series and despite owning the 2nd have yet to read any more!
Last Book Read: Nine Books to Break When Romancing a Rake - Book 1
Most Recent Book Published: Eleven Scandals to Start to Win a Duke's Heart - Book 3
8.
County Cork Mystery series Sheila Connolly
- Sheila Connolly is a cozy mystery writer I really enjoy. I love her apple orchard series and her series that centers around museums reminds me of my days working for a museum. I was so excited when she started a series that takes place in a little town in County Cork Ireland. I read the first one and really liked it and haven't picked up another one.
Last Book Read:
Buried in a Bog - Book 1
Most Recent Book Published:
An Early Wake - Book 3 but Book 4 should be coming out next year.
9. Wesley Peterson series by Kate Ellis- I discovered a Kate Ellis book at the used book store I frequented when I was in college. I absolutely loved it but was never able to find another one and this was before the days of Amazon having everything plus I was on the broke side. Now I'm building up a collection but I've yet to read anymore.
Last Book Read: The Bone Garden - Book 5
Most Recent Book Published: The Death Season - Book 19
10. Spindle Cove by Tessa Dare - Same old story. I read a Tessa Dare book and really enjoyed it but new and shinier books keep distracting me from reading more! This series actually does seem to be finished but she's started a new series that I really want to read as well.
Last Book Read: A Night to Surrender - Book 1
Most Recent Book Published: Any Duchess Will Do - Book 4

So what about you? How many series are you behind on and which ones do you really want to catch up on?