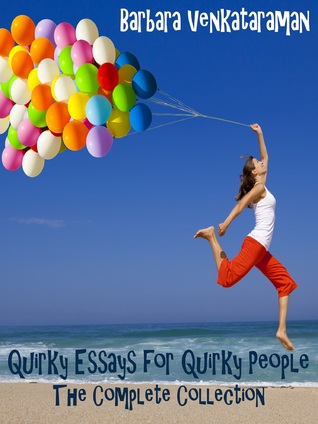 Quirky Essays for Quirky People: The Complete Collection by Barbara Venkataraman
Rating: 4 Star
Source: Provided by the Author in exchange for an honest review.
Description:
This book is full of humorous essays exploring everyday topics like home repairs, dinner parties with friends and their dietary restrictions, kitchen gadgets, hobbies, and aging.

Genre: Nonfiction/Humor
Why I Picked This Book:
I love humorous books and I loved the topics covered.
My Impression:
Reading this book is like chatting with a funny, rather quirky friend who manages to find the funny in any situation. There's nothing particularly wild or crazy about any of her stories. They're all things from everyday life which makes them all the funnier because they're so easy to relate too. Who hasn't had a home repair project go hopelessly wrong (though probably not as wrong as it goes here) or tried to serve dinner to people with rather decided preferences about what they will and won't eat. I was also pleased to see that the Tornado's eating issues have a name - lachanophobia or "fear of vegetables". Her essay on kitchen gadgets made me wonder if she's been peeking into my kitchen drawers and her two weeks without power after a hurricane reminded me of our time without power after a tornado blew through our area.
This is perfect summer reading or really perfect reading for anytime when you want something to lighten up your day. I don't recommend it as a travel book or for waiting rooms unless you're fine with laughing out loud in public!
Now for the giveaway! The author has very kindly agreed to giveaway 3 copies of her book. Winners can choose between audio and ebook. While I read it this would be fantastic in audio! All you have to do to enter the giveaway is leave a comment with your email address. On July 20 I'll draw 3 names at random and contact the winners. Good luck! I really think you'll enjoy this one.
Would I Read More of this Series/Author?:
Definitely! This was fun.
Would I Recommend this Book?:
Yes, this was fun and entertaining.

Challenges Met? Alphabet Soup (Q)