Today's Top Ten Tuesday topic hosted by
The Broke and the Bookish
is the Top Ten Books on my Summer TBR. The last few times I've done this topic I've had a plan but this is for summer so this time I'm just going with the ten books that jump into my head when I think about books I want to read!
1.
Treasure on Lilac Lane by Donna Alward
(10/28/14) - I have read the 1st and 3rd in the series and am really looking forward to revisiting Jewell Cove. Rick was in the 1st book quite a bit and I'm looking forward to his story.
2.
The Red Book of Primrose House by Marty Wingate
(11/4/14) 0 I read the 1st in the story and enjoyed it and I'm especially drawn to books involving gardens and gardening this time of year.
3.
Finding Hope by Stacy Finz
(1/5/15) - And yet another series I'm behind in! This is a contemporary romance set in Northern California. I loved the first one and this has one of my favorite characters from that book.
4.
Toured to Death by Hy Conrad
(1/27/15) - We're not doing much traveling this summer so I'm going to do some vicarious traveling through this cozy mystery.
5.
Dreaming Spies by Laurie R. King
(2/17/15) - Yet another series I'm behind on. I'm pretty sure I'm behind on every series I'm currently reading. I love this twist on Sherlock Holmes and King always provides a good read.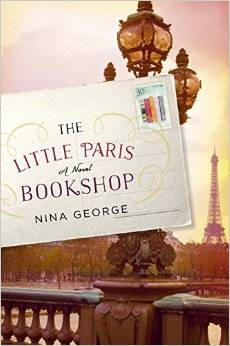 6.
The Little Paris Bookshop by Nina George
(6/23/15) - Between the cover and the title how could I pass this one up?
7.
Stir by Jessica Fechtor
(6/23/15) - This memoir involves healing and cooking which are 2 of my favorite things.
8.
That Chesapeake Summer by Mariah Stewart
(6/23/15) - Yet another series I'm behind on! While I always enjoy this series I absolutely loved the previous book so I'm hoping this one lives up to that.
9.
Second Chance Summer by Jill Shalvis
(6/30/15) - I'm not behind on this series! Granted it's the first one but still! I always enjoy a Jill Shalvis book and this one sounds great.
10.
London From My Windows by Mary Carter
(7/28/15) - This is about Ava - a sketch artist with severe agoraphobia who inherits her aunt's estate including a flat in West End with the condition that she lives in it for a year.
What are you wanting to read this summer?