Today's Top Ten Tuesday topic from
The Broke and the Bookish
is Top Ten Most Anticipated New Releases for the Rest of 2015. It turns out I'm terrible at this topic. Apparently I live in my own little bubble and really have no idea what's coming out when.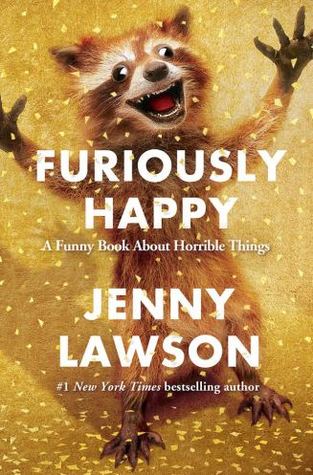 1.
Furiously Happy by Jenny Lawson
- (September) - I loved her first book and I love her blog. I can't wait for this book to come out in September!
2.
Winter by Marissa Meyer
- (November) - So technically I haven't started this series but I've really been wanting to and when this one comes out in November it will remove my last excuse to stall on reading the series.
3.
The Art of Sinning by Sabrina Jeffries
- (July) - I love everything by Sabrina Jeffries that I've ever read so I'm excited about this new series.
4.
The Pioneer Woman Cooks: Dinner Time by Ree Drummond
- (October) I cannot resist her cookbooks. I don't even use them that much (though her mashed potatoes border on life changing) but so far anytime she has one out I buy it!
5.
Only a Kiss by Mary Balogh
- (September) I"m so behind on Balogh's books but yet I can't help being excited about this one.
6.
Long Upon the Land by Margaret Maron
- (August) This used to be one of favorite series and then for whatever reason I stopped reading it. I'm looking forward to getting caught back up.
7.
The Forgotten by Heather Graham
(July) - I love everything Heather Graham
8.
Let Me Tell You: New Stories, Essays, and Other Writings by Shirley Jackson
- (August) - This is a new anthology of Jackson's stories edited by her children.
9.
Kitchens of the Great Midwest: A Novel by J. Ryan Stradal
- (July) - This one has been catching my eye lately and I'm definitely looking forward to reading it.
10.
The Man Who Fell From the Sky by Margaret Coel
- (September) - This is another series that I used to love but for some reason haven't picked any up in awhile. This involves a man searching for Butch Cassidy's treasure so it seems like a good to pick up!
What new releases are you looking forward to getting your hands on?