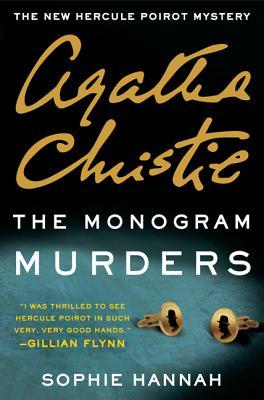 The Monogram Murders by Sophie Hannah
Rating: 3.5 Stars
Source: Library
Description:
When Hercule Poirot meets a woman in a cafe who is frantic and quite certain that she is in terrible danger. But it is one statement she makes that really stays with him "Oh please let no one open their mouths!" When 3 murdered bodies are found at a London hotel each with a monogrammed cufflink in their mouth he knows the murders are connected. With the help of his friend Scotland Yard Detective Catchpool the 2 are off to solve the murders, discover the identity and hopefully save the elusive "Jennie" and find out what happened in a tiny village 15 years ago.

Genre: Mystery
Why I Picked This Book:
I almost didn't. As an Agatha Christie fan and someone who has reread her books multiple times I was afraid that it would somehow be disrespectful to Poirot. He is such a character that it would be easy to make a caricature of him. However, a few weeks ago at the library the book jumped into my bag and I was powerless to fight it off.
My Impression:
You know how you read some books and it's hard to come up with anything at all to say about it? Yeah, that isn't the case with this one! I'm going to try writing the review of the book itself and adding a section that combines this book to Christie's books.
Pros:
The premise on it's own is incredibly intriguing. How were these 3 people connected? And whose initials are on the cufflinks? The pacing for the first 2/3 of the book was very good and watching all the little threads start to come together was fascinating. I love when old mysteries are intertwined with new mysteries and in this case there were a number of little mysteries that all come together. I like Poirot and Catchpool's chemistry. Pairing Poirot with an official and letting the reader look through the eyes of the official detective was an interesting twist.
Cons:
From about page 200 I felt like the story hit a wall. Instead of all the threads coming together things started to get murkier and convoluted. Like the author had come up with this fantastic premise and knew who she wanted to be the killer but just couldn't quite get there. There seemed to be a whole lot of talking and explaining but the explanations never seemed to quite get finished. I also found Catchpool's inability to deal with corpses a bit strange. The man's a detective at Scotland Yard so one would assume he'd come across one or two or at least expected to come across one at some point. His almost breakdown due to that seemed odd given his profession.
Hannah vs Christie
: At no point in the book did I feel like I was reading a new Christie. Agatha's books have a clean crisp and almost unemotional feel to them while this had a much more modern thriller feel. Also, the very idea of Poirot with his chocolate and his syrops drinking tea or coffee is almost blasphemy! There was a comment in the book where Poirot says that he doesn't mind the cold which caused my eyebrows to almost touch my hairline. Poirot is the king of coats and scarves and doesn't understand the passion the English have for open windows and fresh air. He detests cold! That being said, I think Hannah treated Poirot's character respectfully and he was never made to seem comical. I thought the choice of inventing a new sidekick with Poirot was smart as trying to replicate Poirot is hard enough without throwing Japp or Hastings into the mix!
Overall:
I really enjoyed the first 2/3 of the book but wish the last 1/3 had been clearer. While it didn't have the Christie feel it always felt respectful to Poirot which made me happy.
Would I Read More of this Series/Author?:
I'd like to try Hannah's books with her own characters and I probably will try another Poirot if she writes one.
Would I Recommend this Book?:
Hmm... As a mystery the end was lacking so I'm not sure if I'd recommend this as a mystery itself. If you're a big Christie fan it's worth picking up.

Challenges Met? Alphabet Soup (M), Library Challenge