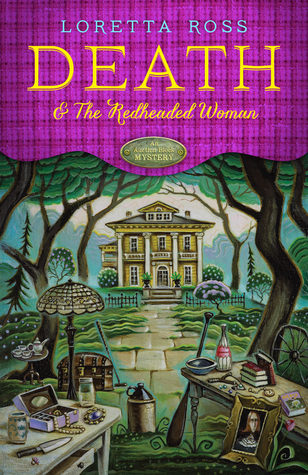 Death and the Redheaded Woman by Loretta Ross
Rating: 4 Stars
Source: NetGalley
Description:
Auctioneer Wren Morgan was expecting a quiet day cataloging the contents of an old house - not a dead body laying on the floor of the dusty parlor. When she meets bounty hunter Death Bogart at the police station the two quickly become allies and then friends in the search for not 1 but 2 cases of missing jewels and maybe a murderer.

Genre:
Mystery
Why I Picked This Book:
Really all I saw was there was an old house and I couldn't resist. Old houses are my weakness. Hidden jewels don't hurt.
My Impression:
Pro:
I don't necessarily want to be Wren but I definitely want to be friends with her. She's so nice and kind with a good sense of humor. She's the type of person who would not only bring you soup if you were home with the flu but clean your house and bake you some brownies. And don't even get me started about Death (pronounced Deeth). He's amazing. A big burly marine who suddenly finds himself disabled and not as strong as he expects himself to be. But he's so nice and so sweet to Wren. Really they're just amazing together. But this isn't a romance this is a mystery and it starts out with a dead guy. The mystery is interesting and involves 2 sets of missing jewels. It definitely kept me turning pages but because I absolutely loved these characters and to figure out what was going on. While this is a cozy I didn't find it cutesy or silly. The pacing was good, the characters were fantastic and the ending tied up all the loose ends and made sense! Not only that but it made me laugh.
Con:
Nothing really. Eric was a little too irritating but we saw him only 2 or 3 times so that's not a big deal. Umm.. the name Keystone reminded me of Keystone Cops and that kind of distracted me the first time I read it. Really that's all I got.
Overall
:This was a fun an interesting mystery with great characters, an interesting premise and centering around an auction house and a bounty hunter which is both unusual and gives a logical reason for investigating.
Would I Read More of this Series/Author?:
Definitely! There's a little tiny cliffhanger at the end about what will possibly be what the next book is about. I cannot wait!
Would I Recommend this Book?:
Absolutely! This is a fun mystery with a touch of romance.

Challenges Met? Reading Road Trip (Missouri), New to Me (Author)