It's Sunday so it's time for the weekly wrap up with Sunday Post from
Caffeinated Book Reviewer
where we get to talk about what's going on, what's coming up and anything bookish and not so bookish.
What I Got:
NetGalley:
The Hexed by Heather Graham - I read The Cursed earlier this month and really enjoyed it so I'm looking forward to the next one in this supernatural romantic suspense series.
Harbor Island by Carla Neggers - this is the 3rd of Carla Negger's books that I've read but the first one not in the Swift River Valley series. This is a romantic suspense involving art theft and Ireland.
The Way You Look Tonight by Belle Andre - this author has been highly recommended and while I still haven't read the previous one of hers that I have I decided to go on and get this one too.
Embellished to Death by Christina Freeburn - I've been in a cozy mystery kind of mood lately and this fit right into that. I like that there's a PI involved to keep it from being the random woman whose asking questions she has no business asking and expecting people to answer them.
That's it from NetGalley this week and while I have some requests still pending I'm going to give the request button a rest for awhile until I get caught up.
Other: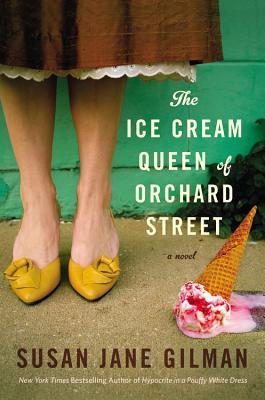 Only one book from other sources this week and that was The Ice Cream Queen of Orchard Street by Susan Jane Gilman. I've been intrigued the premise and hooked by the stunning cover for awhile so I was really excited to get this book in a giveaway from the awesome April from
Bookishly Speaking
. Can't wait to read it!
Audiobooks:
As I mentioned last week I'd just figured out how to get audiobooks from the library. I ended up getting 3 and so far I've really been enjoying listening to them. I've had some trouble figuring out an activity that's mindless enough I can focus on the book but still doing something so I don't get distracted. I started with Sarah Silverman's book Bed Wetter. I don't really care for her comedy acts but I thought a humor book might with not much of a plot might be a good way to start. I'm not sure I'd want to read it but I enjoyed listening to it. I've now moved onto The Great Gatsby which I've been meaning to reread for ages. Question though - does anyone feel like audiobooks are kind of cheating towards a book count? I listened to the entire Silverman book but I feel funny about counting it on Goodreads because I didn't actually physcially read it. Anyone else have that issue?
Also, I discovered my library has a number of different language books so I've been teaching myself Irish this week. It's been very entertaining.
Other Stuff:
I picked my first regular size tomato yesterday! I was so excited to have my first BLT of the season. So yummy! I've got tons of cherry tomatoes that already ripe but they're not so great for sandwiches. I do need to make a pasta salad or something with them soon though.
We bought The Lego Movie last week for the Tornado. We saw at the theater when it came out and he loved it. We have literally watched it everyday for a solid week. I can basically recite the movie now and I'm kind of surprised I don't dream in Lego figures. The good thing is he's gotten back to really playing with his Legos and it's not Yo Gabba Gabba which we had been watching.
On the Blog:
Last Week:
A Top Ten Tuesday about favorite
cover trends
- it was really fun to see how different everyone's opinions were.
Next Week:
The review for a really fun non-fiction - Jennifer, Gwyneth and Me by Rachel Bertsche
My top ten favorite classics though I haven't decided what genre
A Friday linkups with the blog hop question, book beginning and 56 though I can't promise that this week won't be an Agatha Christie
And at least 2 more book reviews.
What's ahead for you this week? Happy reading!