I started this year with the goal of reading outside my comfort zone. I haven't made as much progress as I initially expected to because it turns out that before I can be sure I'm actually reading outside my comfort zone I have to figure out what it is. This took some thought as I'm not a particularly introspective person so it was a bit of a challenge!
This year I've been taking steps outside my comfort zone and the results have been mostly positive. So positive that I started getting a little too confident I think. I just assumed I'd at least like something that wasn't typical for me. And then I listened to
Everything Everything by Nicole Yoon. (Amazon Link)
I don't read YA. I definitely don't read YA that has a romantic focus. I don't read books that center on illness because I don't like to cry. But I had seen some really great reviews on this one and the main character is bookish so I plowed ahead.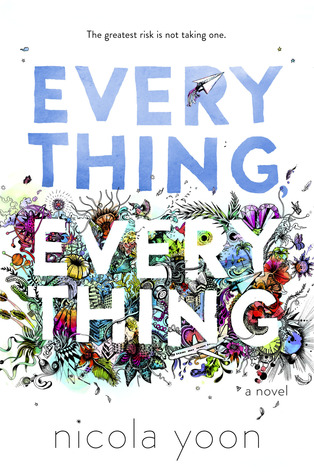 I can definitely see why there were so many glowing reviews on this book. It's impossible not to like Madeline. She's smart, she's brave, she's nice, and she's very mature for someone who is so sheltered and protected. I loved her relationship with Gloria and with her mother though that one was a bit more bittersweet. Olly is completely swoony. He's sweet, he's smart, he's funny in a fantastically snarky way, he's in a tough situation but isn't a complainer. He's really an amazing character. The plot was interesting and I enjoyed learning about "Bubble Baby Syndrome". I easily identified with both Maddy and her mother.
But...
Something about this didn't work for me. I found I was resisting actually listening to it and while I was listening to it even though I was enjoying the story I kept checking to see just how much I had left. I found myself bargaining with listening time. If I would listen to an hour I didn't have to listen to it for the rest of the day. It wasn't that I even particularly disliked it it was just that I didn't want to listen to it anymore.
Part of this could have been that I was listening to the book instead of reading it. There were a lot of schedules and IMs and other things that may have helped this click more for me if I had read it. Bahni Turpin is the narrator and while I would have no problem listening to other books she narrates for me her voice seemed to adult for the character of Maddy. Also, there were times when Olly's voice was read by a male narrator and other times when Turpin did his voice. For some reason I found that incredibly distracting.
So what am I trying to say? This ended up being a book I went back and forth between 2 stars and 3 stars when I was rating it. I finally went with 3 because I don't think it was the book's fault that I didn't like it. There have been a number of times when reading a blurb or a book review where I've said "oh this isn't for me" but I think this is the clearest example of a book I've really read that really wasn't for me.
Have you ever read a book that just didn't work for you even though you could see all the things that are really great about it? How do you rate a book that just isn't for you?