It's Friday linkup time! I'm linking up with the Book Blogger Hop hosted by
Coffee Addicted Writer
, Book Beginnings of Fridays hosted by
Rose City Reader
, and the Friday 56 hosted by
Freda's Voice
This Week's Book Blogger Hop Question:
When you settle in for the night with a good book, do you read until you can't stay awake or simply have a nightly page goal?
My Answer:
It depends on the book. If I'm really enjoying it I tend to just read until I'm tired but if it's a book I'm struggling to get into I try to read at least 50 pages a day to give the story a chance to pull me in.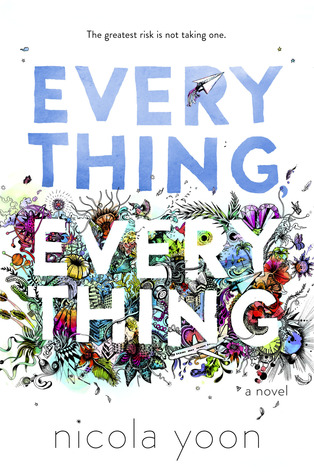 This week's book is
Everything Everything by Nicole Yoon
. It's really far from my typical read - a YA heavy on the romance, a book with illness - but I heard a lot of good reviews and I was so curious about it. I'm going the audio route and I have mixed feelings about the book and the audio version. However, I can see why it got really good reviews as there is so much that is fantastic about this one!
The Beginning:
I've read many more books than you. It doesn't matter how many you've read. I've read more. Believe me. I've had the time.

My Thoughts:
I love this beginning! How can you not love a character who is a reader? I find myself kind of envying her time to read.
The 56:
In two years of tutoring I've only met Mr. Waterman in person twice. Usually all of my tutoring, including architecture, take place via Skype.

My Thoughts:
Okay, I'm envying her way less now. I can't imagine being that isolated and not being able to do anything about it.

What do you think? Keep reading (or listening in my case)? How much do you read before bed?